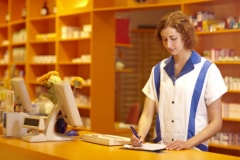 Longwood Pharmacy is your neighborhood Pharmacy that cares. We take the time to fill your prescriptions quickly and accurately, while we check your medications for side-effects, drug interactions, and ensuring the best price. We give personal care to our customers.
At Longwood Pharmacy we believe that our customers are our family and we treat them with:
Prompt Service
Personal Attention
Lowest Price Guaranteed
Longwood Pharmacy opened its door to our customers in April 2010. We have over 5 years of experience in the pharmacy business and keep up to date with continuing education and training.
Our vision here at Longwood Pharmacy is to provide the best possible care, without compromising high quality standards and customer service that has been our motto to our customers who are the driving force. If at any point in your dealings with our pharmacy you are not 100% satisfied, please do not hesitate to contact the pharmacist.